K-Pop Star Somi Talks About New Music in 2020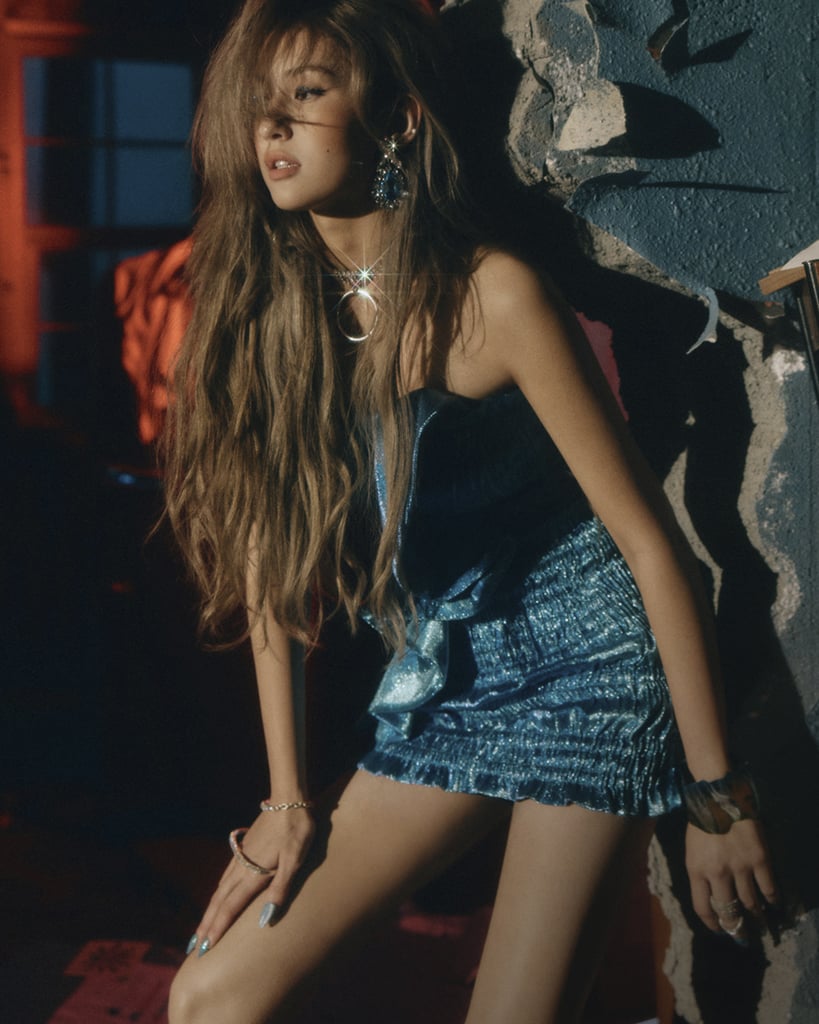 Image Source: Jongha Park
K-pop star Somi is stepping into a new career phase and transforming into a multifaceted artist. The 19-year-old singer — born Ennik Somi Douma — dropped her new song "What You Waiting For" on July 22 accompanied by a dynamic music video. The unveiling is her first project with Interscope Records and marks her official comeback since taking a year-long hiatus after releasing 2019's "Birthday" and "Outta My Head."
It's been a rather productive 12 months for Somi, who took some time to reflect on the trajectory of her career. Although she doesn't mind people's perception of her as a bright and bubbly pop star, she's ready to show fans a different of her — a side they didn't see last year and certainly a side they didn't see when she was a member of the girl group I.O.I. (Ideal of Idol) from 2016 to 2017. In an interview with POPSUGAR, Somi opened up about her newfound confidence, her evolution as an artist, and her plans for more new music.
POPSUGAR: Congrats on the release of "What You Waiting For." The music video is super fun! What was your favorite part about filming it?
Somi: There were a lot of new elements that we used. We used a robot arm camera, drones, and one of my favorite things was the rotating camera that was used to create the multiple Somis falling and getting up on the bed. That was exciting for me because I've never seen all of those things happen at once. And then there were a lot of outfits and locations. It was kind of crazy.
PS: What did you learn about the process of creating music by cowriting and composing the song?
"With this new song, I hope to show how I'm growing as an artist. You can see a more serious side and that I have many layers as a musician."
Somi: I'm learning a lot these days about writing and composing because I started out in a K-pop girl group, so we usually just get songs from writers, and we sing the songs and practice the choreography. But now, I write and compose, so it's all new to me, and I'm trying to get better at it. It's like a new job — learning every day and working with my producer, Teddy [Park]. It's a lot of trial and error and recording on my phone — taking an idea in my head and trying to find the words and melodies to express it properly. It's amazing when it finally does come together.
PS: In what ways have you evolved as an artist within the past year?
Somi: Composing and cowriting have taught me a lot. And I think being in every meeting before a music video or song release has helped me as an artist. We had been preparing ["What You Waiting For"] for a long time. We finished recording it in February, so we had all this time to think and be creative, and I learned a lot from that.
PS: Do you feel like this is a new chapter in you career?
Somi: I think so, especially in Korea, a lot of people know me as the very bright and "vitamin" Somi. I came out with "Birthday" first because a lot of people knew that bright Somi, and I didn't want to give them a big change. With this new song, I hope to show how I'm growing as an artist. You can see a more serious side and that I have many layers as a musician.
PS: What excites you the most about signing with Interscope Records?
Somi: K-pop — and music in general — is very global now. So I'm excited to join the Interscope family tree that has so many great artists. I've always looked at people all around the world as my audience, and I feel blessed to have a label like Interscope that will help me share my music. That's always been my dream.
PS: That must be an awesome feeling — having this dream of reaching a broader audience, then signing with a major label like Interscope Records.
Somi: [Whispers] And I'm only 19!
PS: I was just thinking, "She's so much cooler than I was at 19." Now, I know that Blackpink is also a part of Interscope Records. Have you chatted much with them about joining the label?
Somi: When Blackpink found out, they were very excited and supportive. They welcomed me with open arms, and they always give me great advice on my music and choreography. I'm pretty close with them. They were so happy for me, and I'm thankful for that.
PS: Now that you're at the start of your 20s, what do you hope to get out of this stage in your life?
"I just want to make something that's stylish, music-wise and fashion-wise. When you listen to it, you get groovy by yourself. "
Somi: I think there are a lot of things that are going to happen in my 20s. I'm 19 in American age, but I just turned 20 in Korean age, so I think the biggest thing that's changed in my life so far is that I got a driver's license, and in Korea, I can go to the convenience store and buy beer. But I don't want to put beer and driving together — don't get me wrong! [Laughs] The other thing is, I feel like I can be more expressive now because I'm in my 20s, which is better for me and my music.
PS: You have such an amazing and supportive fan base. What message do you hope to send to them through your music?
I just want to make something that's stylish, music-wise and fashion-wise. When you listen to it, you get groovy by yourself. I want to make that kind of music because I do that a lot. I turn on some hip-hop music and put my swag on by myself in my room and just dance to it. I want people to do that with my songs.
My fans have waited a long time for this new single, and hopefully, the next one won't take as long. I just want to tell them, "Thank you and I love you!" I've been working very hard, and I have a lot more that I want to share with you guys soon. This is a new chapter, so stay tuned because it's going to be cool.
PS: "Get groovy by yourself" and "Put my swag on" are going to be my quotes of the day. What hip-hop songs do you listen to?
Somi: I like Da Baby's "Rockstar" and "Bop" and Cardi B's "Press." I also like older artists like Notorious B.I.G. — "Put your hands in the air if you's a true player!" And I like "Gangsta's Paradise."
PS: "Gangsta's Paradise" is one of my favorite rap songs ever.
Somi: I love that song. My dad influences me a lot in music, and he loves that song, too. He's not that good at singing, but he raps his lungs out. That beat in the intro — and then "As I walk through the valley of the shadow of death . . . "
PS: ". . . I take a look at my life and realize there's nothing left!" Wow, I didn't expect to be fangirling over "Gangsta's Paradise," but here we are. Who are some of your other musical inspirations?
"This is a new chapter, so stay tuned because it's going to be cool."
Somi: The first video that I had ever seen was Rihanna's "Don't Stop the Music." I was in kindergarten, I think, and that's when I went, "Oh, I want to be a singer. That looks super cool." So, she was my starting point. I used to go to these Korean entertainment companies and audition with that song.
PS: You mentioned how you're coming into your own as an adult and how you want to play with style more in your music. Do you have any more hopes for the future of your career?
Somi: We have to wait until after things get better with the coronavirus, but when it does get better, I'd love to go to the States and other countries and perform more global shows.
PS: You already have extensive experience in reality TV and appearing on shows as yourself, but I feel like you'd be a great actress who plays different characters. Do you see yourself getting involved in those types of projects?
Somi: I do! I really want to act one day, but the opportunity has to be given first. I love action. I did Taekwondo for about eight years, so I can do that, and I can jump around and roll around. So I want to do action if I get the chance. I'm ready!
Facebook Sleuth Group Started to Crack Carole Baskin Husband's Case
Exclusive
The case of Carole Baskin's disappeared husband, Don Lewis, is going the route of 'Don't F**k with Cats' — with an online group claiming it's dug up a massive, and crappy, clue about where his body might be.
Jack Smith — the spokesman now repping Don's family — tells us he and a group of internet sleuths joined forces earlier this year after the premiere of 'Tiger King' and formed a Facebook group to search for the truth about Don's still-unsolved disappearance in 1997.
Welp, we're told the group believes it discovered a new lead, tied to an existing theory about Don — namely, that he was allegedly buried on his and Carole's animal sanctuary property under a septic tank system.
According to Jack … the research team has obtained the actual receipts and permit paperwork for the septic tank's installation. Carole has publicly acknowledged two septic tanks — one that she claims was installed well before Don's disappearance, and another installed well afterward.
BUT, if you believe what Jack and co. claim these receipts show … a septic tank system was, in fact, worked on and installed right around the time of Don's disappearance … 23 years ago this month.
They claim the receipts show a permit to install the septic tank was pulled on August 4, 1997, and that work on such a system was completed by or before the 15th later that same month, with a mound of dirt delivered to Carole's address the day prior.
So, what does that all mean??? According to Don's family and this crack Facebook team of investigators, it points to the possibility that Carole wasn't truthful with her timeline … and that Don may very well be under the ground, like Joe Exotic himself suggested in the docuseries.
We're told the group will turn this finding and others they claim to have over to the cops, in hopes of cracking the case wide open again.
We've reached out to Carole about the group's new findings … so far, no word back.
Why Friends Isn't a Funny TV Show
Thanks to streaming platforms like Netflix and HBO Max, Friends is still insanely popular years after its primetime run. Its actors are still making millions of dollars each year, and the show has a major fan base that spreads across countries and generations — I'm just not one of them.
At first, I thought my indifference around the show was because of my age or upbringing. By the time the show had ended in 2004, I was barely out of diapers and spent most of my time watching cartoons. I grew up on BET and Tyler Perry movies, as did many of my current and past friends. But don't get me wrong, I wasn't constricted to just watching these shows. In fact, some of my best childhood memories are watching reruns of The Nanny and Full House with my cousins. I just never got around to Friends and didn't feel like I needed to.
So what better time to check out this cultural phenomenon than while stuck in the house? I tossed on the 1994 pilot and, well, let's just say I wasn't impressed. Putting aside the valid criticism that the show is problematic by 2020 standards, Friends just isn't very funny.
In the first scene, Chandler tells the group about a "crazy" dream he recently had where he was naked. With each part of his story, I found myself anticipating the humor. Then he ends the joke. "All of the sudden, the phone starts to ring, and it turns out it's my mother," he says before a laugh track. "Which is weird because she never calls me," Chandler finishes before yet another laugh track plays and the screen fades into the next scene. That's it? That's the punchline?
I think the most off-putting part is the unnecessary laugh track after nearly everything a character says (granted, a number of '90s shows are guilty of the same thing). This made the first couple of minutes excruciatingly awkward for me. Here I am, thrown into this show with no type of background, and I'm already overwhelmed with forced laughs.
Then there's Rachel's apparently iconic "runaway bride" story arc. She had been living off of her dad's money, then was planning to live off of her husband. She suddenly realizes she isn't attracted to him, so she leaves him at the altar and decides to move in with her old high school buddy. The zany plotline is probably the most interesting thing about the episode, but it's not particularly funny.
Let's talk about Monica's "nondate" date. She goes out on a date with this "wine guy," and they have a pleasant date and implied consensual sex afterward. She later finds out he had lied to her in order to get her to sleep with him. What's funny about a grown man having to make up an elaborate lie to "get laid"? Then she doesn't even give him a piece of her mind; instead, it's left unresolved. Maybe it's something that comes back up in another episode?
It's apparent that people enjoy this show because of a nostalgic connection and the way they relate to the characters. But to me, a newcomer, it just doesn't engage those same emotions. To be fair, I can admit that some of the adorned Black sitcoms that I grew up with (*cough* Family Matters *cough*) aren't all that upon rewatch. I'm sure many people who didn't grow up watching Steve Urkel chase after Laura Winslow would probably find the show distasteful.
Let me end by saying this: I can definitely see where people's love for this show comes from, but it just isn't that funny.
College Football Considering 2 Seasons in 2021, Spring and Fall
Exclusive
With the Pac 12 and the Big Ten shut down for 2020 — sources tell TMZ Sports there are serious discussions about having 2 football seasons in 2021, 3 months apart.
The proposed plan, according to our sources would be a season that runs from February to April — followed by 3 months off.
The 2nd season would kick off in August and run through the rest of the year … on the normal college football schedule.
All of this is predicated on the notion that it will be safe to play again by the spring. In other words, there needs to be a real plan on the handle to handle the COVID threat. A cure would be nice.
With PAC 12 programs shut down until at least January, coaching staff can NOW start to focus on recruiting top players for the Fall 2021 season … and coaches aren't wasting time.
There are other issues facing major college programs regarding how to handle players currently on campus — keep them around or send them home?
One source tells us … it will be up to players if they want to stay on campus or return to their homes. With most classes available online and no team practices allowed until January, some players will see no reason to stay.
But, with scholarship athletes still getting lodging and food plans covered by the schools, some are expected to stick around.
Another issue … several programs are expecting some of their top players to opt out and prepare for the NFL Draft instead of waiting out the college football season.
As one source put it, "It's a smart move for some players with so much money at stake."
The bottom line — there's A LOT of money being lost without college football in 2020 and everyone's scrambling to find a way to make it back as quickly as possible.